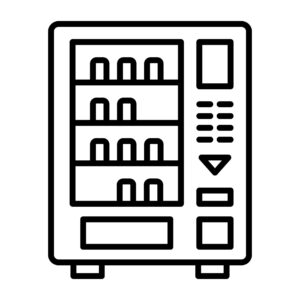 We don't just supply snacks and drinks – we supply happiness. Want to know why? When employees are hungry for a mid-day snack or need an afternoon caffeine pick-me-up, our vending machines are the perfect solution. Not only for offices, but warehouses, mechanic shops, schools, and other facilities. Vending Raleigh is the ultimate destination for vending machine services and vending machines for sale.
Your Tummy Needs Options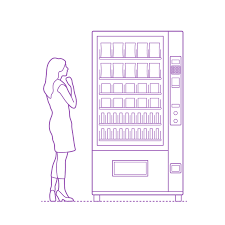 A growling stomach needs snacks and food to remain productive. So when you're looking for a vending machine for sale in Raleigh, make sure you find the one who can do it all.
Drinks: Whether it's a cold soda, a refreshing sports drink, or a well-timed energy drink; we have you covered!
Snacks: Salty, sweet, crunchy, chewy – we stock snacks for all taste buds.
Combo: Two-for-one machines that can offer both snack and drinks in one unit. Perfect for small breakrooms or space-constrained areas.
Coffee: A hot cup of coffee or tea is never more than a few button presses away. We make it easy and simple for your employees to enjoy their daily cup.
Our vending machines for sale allow you to find the best option for your space to ensure all employees can enjoy their snacks and drinks.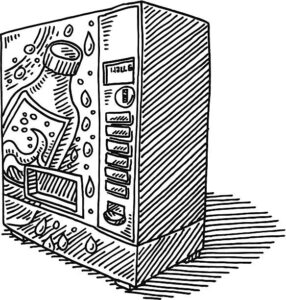 Vending Raleigh: The Top-rated Vending Machine Seller in Raleigh
Just one glance at our dozens of five-star reviews, and you'll feel confident working with us. Vending Raleigh has quickly become one of the region's highest-awarded companies in the vending space. We have thousands of customers served and here's why:
Experience
Our talented drivers, repair technicians, and friendly staff will ensure your machines continue to operate without worry.
Team Strength
We hire the best of the best, making sure there is always a person who can communicate clearly with you about your vending needs and solve any problems that may arise.
Staying Updated
Vending Raleigh provides the latest machines and card readers, allowing customers to pay with cash, credit or debit, or Apply Pay.
Options
We provide a variety of snack and drink options that are sure to please every type of preference.
Zero Servicing and Maintenance Charge
We keep things easy and provide a service for your employees that allows them to have a drink or snack at the press of a button without costing the employer a dime.
Affordability
We offer a wide range of vending machines for sale that can accommodate any budget.
Contact Us
Shoot us an email at hello@vendingraleigh.com or call us up today at (919) 999-3903. We would be happy to serve you. Our reviews speak for themselves!